So… I've held my tongue on my site for a long time but I'm finally giving my view on the Happy Birthday Dress saga that is currently raging over a month after the initial incident.
For any of you out there who have possibly been living in outer Mongolia and haven't heard about this, let's go back to the beginning…
What is the Met Gala?
The Met Gala as it is currently known, is a yearly fundraising gala held in New York City. It is held to raise funds to benefit the Metropolitan Museum of Art Costume Institute. The gala is organised by Vogue Magazine and is attended by celebrities from the world of fashion, entertainment and politics. Each year the gala has a theme, which the guests are expected to follow, though this is not enforced.
Depending on where you look, this years theme was 'In America: An Anthology of Fashion'. Others say it was 'Gilded Glamour', supposedly pulling inspiration from New York's Gilded Age of dressing to excess and grandiose. So, where does Marilyn come into this?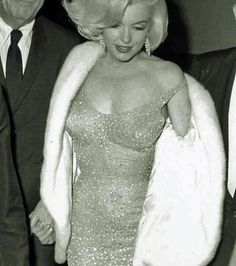 Ripleys & Kim – A Match Made in Marilyn Fan Hell
Earlier this year Kim Kardashian contacted Ripleys Believe It Or Not. As the owner of Marilyn's "Happy Birthday Mr. President" dress, she called them to ask could she borrow it to wear to the Met Gala. The "museum" staff had a meeting with Kim in April in Los Angeles where she tried the dress on. It didn't fit. Given that the dress was custom made to fit Marilyn in 1962, it's unlikely it would properly fit anyone. Between Ripleys and Kim, the story goes that they had a discussion, she asked them to give her a few more weeks to lose weight and that they would try again. Ripleys agreed.
By the time those three weeks had passed, Kim had undergone a period of extreme dieting, lost 16(!!!!!) pounds and was feeling good about fitting the dress this time around. After all, she'd always believed Marilyn to be curvy too… (but that's a whole other story that you can read about here. ) So she got on her private jet and flew to Orlando, Florida, where the dress was on display. Yet again they tried to get the dress on her.
Met Monday
There were rumours in the lead up to 'Met Monday'. A couple of people messaged me on my Instagram page to ask if it was true that Kim was going to wear Marilyn's ACTUAL dress. I was incredulous! No way she would. When I saw the dress up close and personal before it was auctioned in 2016. I was told that the mannequin it's been on since 1999 was custom made in Marilyn's form and the dress could never be taken off. If it was, it would fall apart! I was adamant that this would NOT be happening, if nothing else, Ripleys couldn't be that stupid!! As I got into bed on Monday night (Irish time) celebrities were just beginning to arrive at The Metropolitan Museum of Art in New York City…
Panic Sets In
I started to panic. What if it's true? What will happen to the dress? They could never be this stupid, right?? Turns out, there's all kinds of dumb people in this world and seems to be a plethora of them working for Ripleys Believe It Or Not.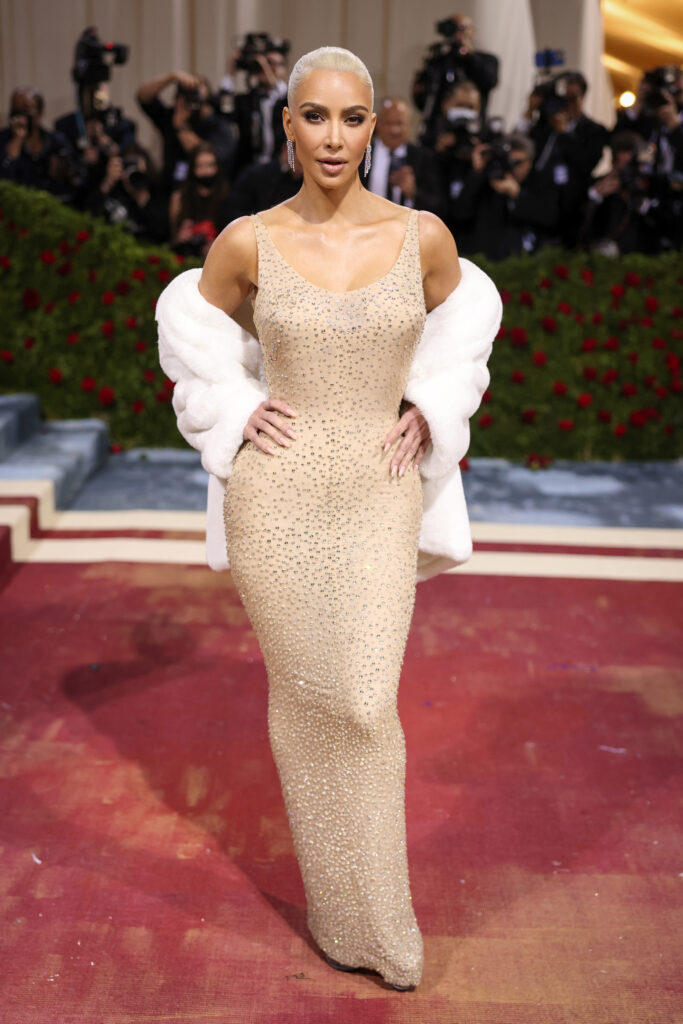 Kim walked the red carpet in Marilyn's ACTUAL Happy Birthday dress. They removed it from the mannequin. She had two fittings. Kim claimed that after losing 16 pounds in three weeks, she fit it. She had dyed her hair peroxide blonde, one can only guess in an effort to emulate Marilyn's Madison Square Garden look, albeit hers was scraped back in a bun. She struggled walking in the dress and navigating the stairs was surely terrifying. No doubt she was worried she'd catch her foot on the hem and damage the dress.
At this point I should say that Ripleys had been facing backlash from conservationists, collectors and fans alike. Their response to this was to double down on their assertions that nothing bad was going to happen to the dress. Comments like;
Quote 1
"Great care was taken to preserve this piece of pop culture history. With input from garment conservationists, appraisers, and archivists, the garments condition was top priority. Believe It or Not! no alterations were to be made to the dress and Kim even changed into a replica after the red carpet!"

Source: Ripleys Press Release – May 2nd 2022 (via @marilynmonroecollection Instagram)
Quote 2
"And to be fair, Ripleys said it did try to protect the dress "We basically had many conversations with Kim and her team and put a lot of requirements in place with security and with handling of the dress," Amanda Joiner, a vice president of licensing and publishing at Ripleys, said to the Daily Beast. "The dress was never with Kim alone. It was always with the Ripleys representative. We always ensured that at any time we felt that the dress was in danger of ripping or we felt uncomfortable about anything, we always had the ability to say we were not going to continue with this."

Source: Slate.com – May 5th 2022 (via @marilynmonroecollection Instagram)
Quote 3
"After receiving Kardashian's request to wear the dress a couple of months ago, "We had to make some decisions as far as whether or not we were willing to let Kim borrow the dress," Joiner said. "We did two different fittings with her. The first one was in LA in April and then the second one later in April to see whether or not the dress would fit. The biggest challenge that we had is that we really wanted to make sure that we kept the integrity of the dress and the preservation, because it's 60 years old, and we feel that it's such an iconic piece of fashion, both from a historical perspective, but also from a pop culture perspective."

Source: The Daily Beast interview with Amanda Joiner, Vice President of licensing and publishing at Ripleys Entertainment – May 3rd 2022 (via @marilynmonroecollection Instagram)
Aftermath
Marilyn fans on the whole were shocked and started calling Ripleys out for doing the wrong thing. Bob Mackie, the man who sketched the dress for designer Jean Louis in one of their first collaborations said;
"I thought it was a big mistake. [Marilyn] was a goddess. A crazy goddess, but a goddess. She was just fabulous. Nobody photographs like that. And it was done for her. It was designed for her. Nobody else should be seen in that dress."

Entertainment Weekly – May 16th 2022
Sarah Scaturro, the former head of conservation at the Metropolitan Museum of Art's Costume Institute said;
"Wearing historic clothing damages it. Full stop. When I was the head of the Costume Institute's conservation lab I had to swat off requests by people (including Anna Wintour) to have irreplaceable objects in the collection be worn by models and celebrities. Now fashion conservators, collection managers, and curators are going to suffer under pressure from fancy powerful rich people who think they should be able to wear objects in costume collections since after all ' it's just a dress' rather than irreplaceable fragile material culture."

Source: Hyperallergic.com – May 4th 2022
Nightmare on Hollywood Boulevard
In the days that followed the gala, there were comments from all sides voicing opinions on whether it was right or wrong. Then Ripleys released a video of Kim's final fitting. It is the thing of Marilyn fans and conservationist's nightmares. You can view it here, if you dare, but be warned, its not good. This video shows Ripleys "officials" manhandling this piece of fashion history to get it over Kim's hips and bum. All whilst wearing white gloves, lest they damage it. As if seeing all this wasnt enough, the biggest shock of all came for me when I realised that the dress NEVER ACTUALLY FIT HER! Ripleys couldn't get the zip up on Kim. They altered the dress by adding on ties to the waist, so that they could pull it in and make it appear zipped up. Kim walked the red carpet with a fur stole/jacket around her. Seemed strange at the time, but now it made sense – it was hiding this abomination!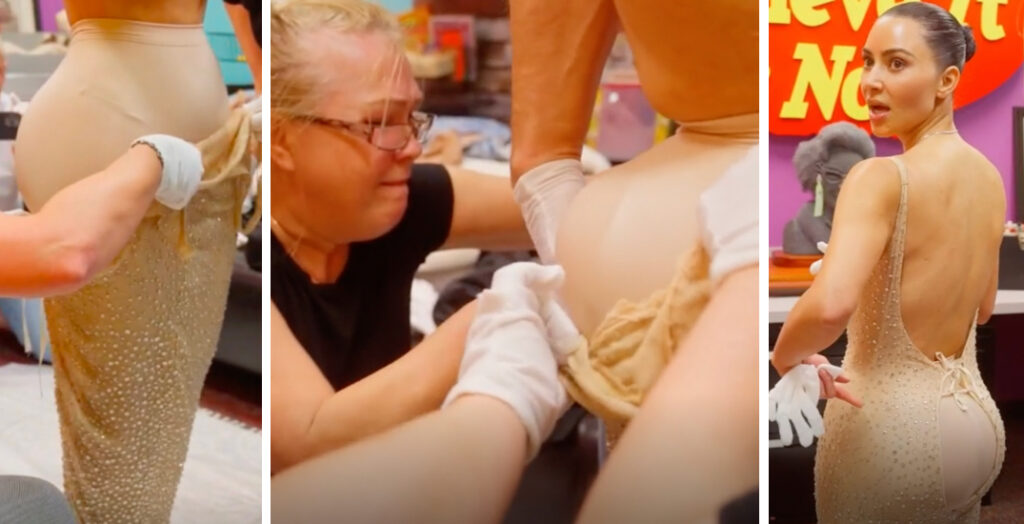 Keep Calm and Think of Marilyn
Through all this I tried my hardest to remain kind towards Kim. I've always placed the majority of the blame with Ripleys. After all, anyone can ask if they can wear something, but someone has to say yes for it to actually happen! I kept hoping that once it was back with Ripleys and back on the mannequin there would be no damage. I figured, as a fellow Marilyn fan, Kim would never do anything to put this iconic Marilyn dress in any danger of being irreparably damaged… I was wrong.
On Sunday 12th June, a friend of a friend went to see the dress in Ripleys Los Angeles location. This is what he found…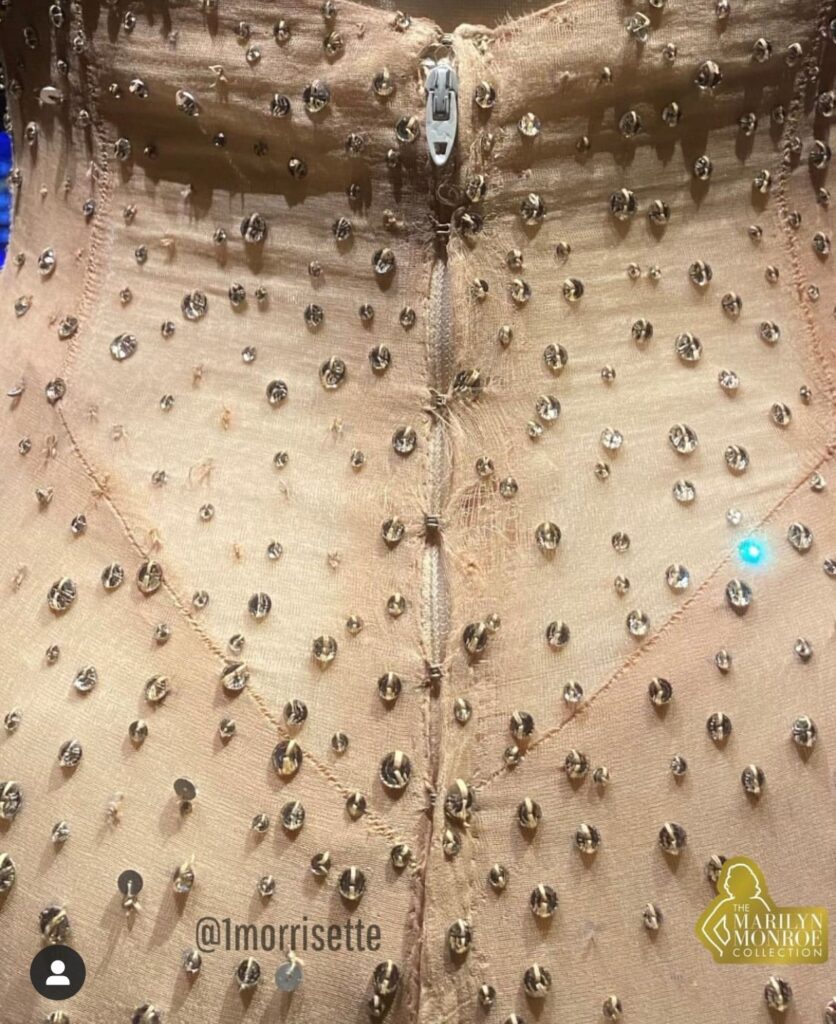 This is desecration. Pure and simple.
For anyone arguing that the before photos aren't clear enough to show up close what the zip looked like and maybe it was like this all along. It wasn't. These photos taken from Newbridge Silverware's website show that when they had it on display in 2016, this damage was not there.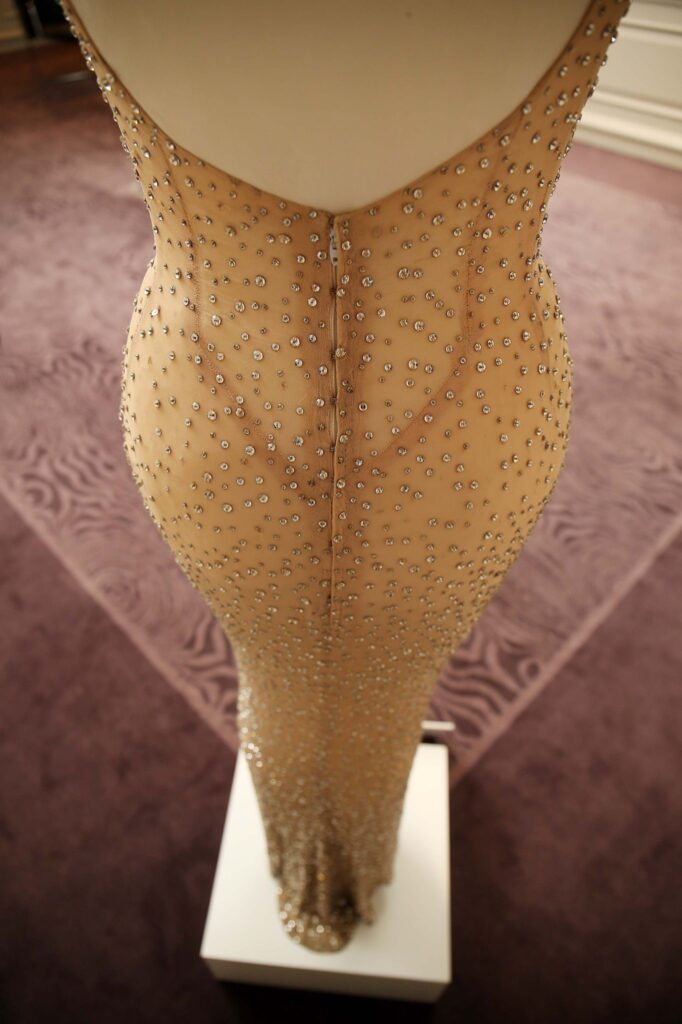 What Happens Next?
So what now for this exquisite and iconic piece of fashion history? Who knows? If it stays in the hands of Ripleys, in that world where cash is king and can apparently buy you anything, I believe it will be destroyed completely. If they sell it on again I can only hope that someone with a bit more sense will buy it. Maybe they could donate it to The Smithsonian Museum! They certainly have conservationists who know how to display and care for a piece of such fragility and cultural importance.
My Feelings?
A couple of things that really bother me here? Obviously the lack of care on all parts. But also, she wore a replica on the night that actually looked better on her so why bother with the real one and taking this massive risk. Also, now there are rumours that the rhinestones that came off are currently in the possession of Kim and her sisters. If that were true and they didnt give back the ones that fell off… just wow!
All in all, the main emotions I feel are sadness and disappointment.
I feel sad that, in the world we're living in now, everything seems disposable. No matter how important it may be. One thing is for sure though – Marilyn will live on forever, dress or no dress. Her legacy, talent and beauty will shine through. She will always be remembered for being an actress. Kim will probably be remembered most for some other decisions she's made.
My eternal gratitude goes to April Chambers and Scott Fortner whose constant research on Marilyn continue to educate me every day.